Sick as a Dog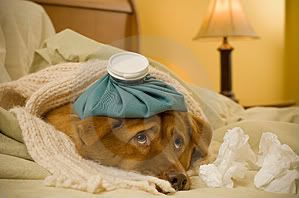 Still sick but actually getting better and had a pretty nice Christmas overall. Sheba the Cat and I spent Xmas eve and Xmas morning alone; fielded lots of phone calls from family and friends.
I gifted Sheba with a stuffed leopard toy. So far she hasn't touched it but repeatedly returns to it to smell-smell-smell then stand beside it for long periods. I have no idea what she thinks of it. It was made in China so probably has marvelous alien odors ( hopefully no pet poisons nor date rape chemicals. :-) )
Doc said my bronchitis, sinusitis, asthma and allergies weren't contagious so I went with Jeannie and Sean to grand daughter DD's home to have Xmas dinner with her family and the Wild Child.
It was a long trip and I was worn out. Wild Child came home with me to spend a few days and has been babying me. I still sleep a lot.
Where did we get the sayings, "sick as a dog" and "healthy as a horse"?
COMMENTS:

Hello, Ms American.
As for your enquiry, I believe the "sick as a dog" thing came about as a results of the renown of dogs throwing up. Even the Proverbs make mention of this, ie "As a dogs returns to his own vomit, so is a fool to his folly."
Not a very pretty picture, is it?

As for horses, it occurs to me that the custom of shooting a horse to 'put it out of its misery' might have had a bit of an effect on maintaining a healthy population among them. It seems that the presumption, rightly or wrongly, falls that lack of serious illness would imply good health.

So sorry to hear of your illness, and I certainly hope that you weather this out in all haste.

All my best to you and yours for this holiday season.




Hey, Worried, sorry to hear of your indispositions.

Hope that you recover quickly because, Gal, the whole world needs you! XXXXXXXXXXXXX

Sorry you're so puny still. Ray & I managed to either catch a cold or fall victim to bad air quality here yesterday. Today it's better so it's probably not a cold.

Hope you're up and about soon.

Hi PT - it's been a while.

And hi to Daniel too.

Yes, PT, it has been too long without your sagacity and your company. So very glad to have you back again. Keep warm.

Hi, Daniel. Hope you had a happy! Thank you for the good thoughts and XXXs.

Thank you, Granny. Glad that you and Ray escaped the nasty little virus.

so sorry you have been sick...I hope you get better soon...and that the new year is better for you....namaste.

Hope you're feeling better as of this writing, which is only about a thousand posts behind...(: There just isn't enough day in the time!
Labels: dog sick