Thanksgiving Greetings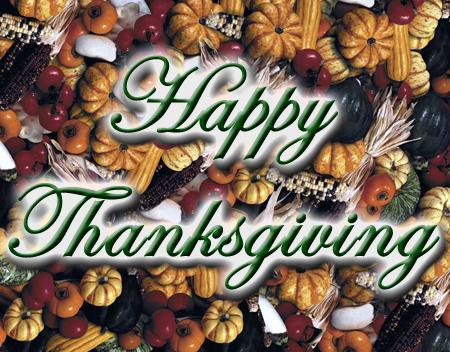 May each of our friends, visitors and family members have a blessed and happy day of thanksgiving. We wish you good cheer, good companionship, good eats, joy and prosperity.
Of all our many blessings we are thankful for our friends. You are an inspiration.
Worried, Granny and Gadfly
>>>>>>
WA: Before I sold my home and moved into this Warehouse for Old People, Holiday get togethers were held at my house. It was common on Easter, Thanksgiving and Christmas Eve to have upwards of 40 family members and friends attending. It was glorious! Such gatherings are impossible to hold in my miniscule apartment, so I began going to my daughters' homes for holidays, usually Jo's and Dottie's. To avoid showing favoritism or disappointing one or the other, I went to both, as each served at a different mealtime. I tried just having coffee and dessert at house #2 but there was always the, "Oh, Mama! You've gotta taste this!" and that, and something else. Not a good idea for a rotund diabetic with limited stomach capacity. I learned to dine lightly so I could honor each cook with appreciative kudos.
This year Jo and Lloyd are in Iraq so Terry (who resides at Jo's home) and I are invited to Dottie's. After dinner I can take a nap in Dot's study instead of dashing off to another house. Then I will go to the farmette with Terry to spend the night.
A stray pit bull dog chased one of the farm cats who took refuge atop Jo's new HH car. Would you believe the dog not only clawed one fender very badly but actually gouged bites into another fender in his frenzied efforts to get to the cat. Jo and Lloyd will be home Dec. 7 for R&R and she wants to use her car, so she is having the dealership pick up the car Friday for repairs. I have to be there to hand over the keys.
I am a night owl, definitely NOT a morning person, so to avoid an early rising to make the 50+ mile drive to the farmette, I will go Thursday evening and stay the night. I shall be awakened by rooster crows, quacking ducks, honking geese, pot-racking guineas, pig squeals and a donkey bray as Terry goes out to feed the critters, the usual cacophony that greets the arrival of the food bearer. Early rising? No, I shall snuggle back into Jo's warm waterbed and sleep until the dealership man arrives while poor Terry trudges off to work. Then I will luxuriate in the peace and quiet of the country, feast on Dottie's leftovers, go visit the Wild Child, then head back to the noisy city.
Quite a departure from Thanksgivings of old. I miss the old times very much but I'm thankful for what I have. One bright side - it's a heckuva lot less work! There are a few advantages of being old. I get to sit and be waited on while the young folks do all the labor. And go nap when I want to. :-)

Hey, you guys: I might be "running the streets" but I still check in sometimes. Happy Turkey Day to you all. Everybody that porked today grunt "ooof! I can't believe I ate the whole thing!"

COMMENTS:

Dear Worried, enjoy your time. After our hectic last 3 weeks, I am really enjoying being 'settled'. Blessings to you and your family, hope the R&R will come really soon (may time fly by!)
hugs
Ingrid

My Thanksgiving to all is over on "granny".

For the first time in over 20 years, I'm not feeding the multitude. We're invited out. I'm taking deviled eggs.

And today is my youngest son's birthday. He's 35. I baked him a "virtual" cake and put it on the blog.

70,000 people here must have turned on their stoves at the same time this morning. Our power went out a little after six (turkey cooking time). Just came back on.

Have a wonderful Thanksgiving everyone.




For food in a world where many walk in hunger,
For faith in a world where many walk in fear,
For friends in a world where many walk alone,
We give you humble thanks, O Lord.

Grant us Peace.

Amen.

Everyone Have a wonderful Thanksgiving.

fjb said...

Hope you all have a wonderful weekend.
WA: Thank you, everyone. I hope that your holiday was as wonderful as mine was. I dodged the bullet of having to go to the farmette - son Terry made other arrangements with the dealership to pick up Jo's car. In a way I missed going to the country but in another way it was nice not to make that long drive, just dash home and collapse in my own bed.
Undoubtedly for the first time, Granny got to be Grandma guest like I do, instead of slaving for hours cooking. Way to go, Granny Ann.
Labels: Thanksgiving