Senior Sexuality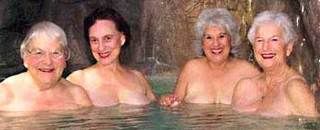 On Gadfly's post, "Old Ladies", 11/05/07,
Daniel was just teasing, ofcourse. And ofcourse neither Granny nor I intend to make this a forum on senior sexuality. Personally, I believe that intimate (sexual) relations are private and not for public consumption but I am not a prude about it. Human sexuality is a natural, normal, healthy aspect of the human condition , nothing secretive nor shameful about it to be whispered behind closed doors.
On "Worried Returns", 11/04/07,
Again, The Future Was Yesterday was merely teasing. From reading his blog I am certain that he is not one to raise his eyebrows in astonishment at a senior's friskiness. In fact, I suspect he quite possibly is a tad frisky himself.
However, unfortunately many younger people decry the very idea of seniors engaging in sexual behavior. When my eldest daughter was in her early 50s, her adult son overheard her make a personal remark and cried out in disbelief, "Mama! You mean that you and Poppy Earl still
DO IT?"
Regarding senior sexuality I have heard younger people exclaim, "EEEWWW!! GROSS!!" as if it was disgusting. Excuse me! Seniors are people too with all human attributes; they've just lived a bit longer than the youngers. People never get too old to need love, companionship, and very often, sexual relationships. Nurse friends who worked in nursing homes have spoken of romances blooming there.

Study shows that seniors' sex lives remain active longer than thought
By Marilynn Marchione
ASSOCIATED PRESS
August 23, 2007



REED SAXON / Associated Press

Suburban Los Angeles residents Jack Menager, 83, and his wife, Elizabeth, 84, say they have had a good sex life for nearly 60 years.

So Dr. Ruth was right: You are never too old for sex.

An unprecedented study of sex and seniors finds that many older people are surprisingly frisky and willing to do and talk about intimate acts that would make their grandchildren blush.

That may be too much information for some folks.

It comes from the most comprehensive sex survey ever done among 57-to 85-year-olds in the United States. Sex and interest in it do fall off when people enter their 70s, but more than a quarter of those up to 85 reported having sex in the previous year.

And the drop-off has a lot to do with health or lack of a partner, especially for women, the survey found.

The federally funded study, conducted by respected scientists and published in today's New England Journal of Medicine, overturns some stereotypical notions that physical pleasure is just a young person's game.
To read entire article,Click the following to access the sent link:


.................................................................................................................................

Longtime readers are aware that I live in an apartment complex reserved for the handicapped and senior citizens. In the 9+ years I have lived here, I have seen love blossom, instances of sexual attraction amongst the elderly people and not a little whoopee.




Cross posted from personal blog

:
No Roasted Old People - 7/31/07
The old people here where I live are usually very bored and their chief entertainment is gossiping about fellow residents, talking about old times and past adventures, complaining about their ills, and occasionally criticizing the government. Now and then someone will be suspected of or caught engaging in romance and that is a source of major gossip and salacious entertainment for awhile. (Oh yes, children, even old folks still do the deed sometimes).

It will inspire old men to invent tales of women in the complex pursuing them with lust on their minds. I am amused that every tale is alike - the women come to their apartment, strip naked, lie down on their beds and beg the men to make love to them. I wonder that they cannot be more creative in their verbalized fantasies of still being virile and desirable. And some of them are ( although I doubt their fantasies are true) as there are true tales of Lust in the Dust now and then. One of my 80+ year old friends here carried on a torrid romance with her "boy toy", a younger man of only 73 years. Scandal and jealous, spiteful gossip raged for a long time and she is still viewed with suspicion by the other women and great admiration by the old men.

A scandal that gloriously entertained the residents was when an enterprising elderly entrepreneur was discovered having a troupe of 5 or 6 ladies of the evening come to his apartment every month when Social Security checks arrived and hiring the ladies out to male residents. Tongues wagged for weeks after that was discovered and there were a number of disconsolate old men when Management put a stop to his business.

But the dog days of summer offered no excitement until.........(remainder of post deleted)
.......................................................

Yes, dear hearts, there is sex after 50!


COMMENTS:


I am not one of the ladies in the photo. But now that I think about it ...

Love this post. It made me smile and then laugh.




Is this the red-light blog that is burning white-hot with simmering passion and unbridled desire? Have I got the right place?

Will I have to read this site under the care and control of an adult? Do I need a credit card number? Are the names Granny, Worried and Gadfly merely deceptive pseudonyms for mature women who are on fire?

Where do I sign?




Ohhh Daniel! We'll never tell!! :-)

"Human sexuality is a natural, normal, healthy aspect of the human condition"
If more people realized and/or learned that, we wouldn't need to fear one of the most basic human instincts might offend some one if we actually (GASP! talk about it.

"he is not one to raise his eyebrows in astonishment at a senior's friskiness. In fact, I suspect he quite possibly is a tad frisky himself."

Did you just call me old? Don't make me have to get gadfly out here, now!:)

To answer your question without actually answering it, let's just say neither of us have any complaints to date.

I hope!!




TFWY: "old"? Never! Do we call fine wine "old"? And tree ripened fruit is always sweeter and juicier than green or half ripe. Remember Gadfly's favorite song, a stanza from it, "..it takes a lot of living to get good at giving...".

Ladies, in keeping with the spirit of things I feel we have to get a better name for The Future was Yesterday.

It's too much of a mouthful for a mature women swept up by a moment of passion. "Oh, oh, The Freedom Was Yesterday!" It kind of sounds more like an add for an arthritis remedy than a description of a real mean love machine!

What about 'Stud'?




Daniel! I think that you are rather frisky yourself!

It's only a rumor!

Personally I think old people should act their age!

Yellow Rose

We're as old as we feel.

Once we feel old, we'll be old.









Labels: Senior Sex