Tear Drop Monument - Russia's Gift to the United States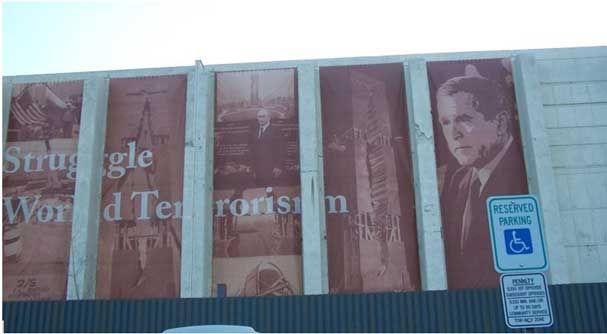 The monument displayed below, officially entitled "To the Struggle Against World Terrorism" (but also known as "The Memorial at Harbor View Park" or the "Tear Drop Memorial"), was dedicated at the northeast corner of Bayonne Peninsula in New Jersey, a gift from Russia.
The monument was the work of Russian artist Zurab Tsereteli, whose inspiration was described thusly in a brochure about the monument:
"To the Struggle Against World Terrorism" was conceived as the events of 9/11 unfolded and Russian artist Zurab Tsereteli walked the streets of Moscow. Struck by the outpouring of grief he observed, a memorial with an image of a tear formed in his mind. Shortly after the attacks, Tsereteli visited ground zero and looked to New Jersey's waterfront for an appropriate site for a monument honoring victims of

the World Trade Center

terrorist attacks.
Bayonne was a fitting location; the city was an arrival point for many New York City evacuees on 9/11, a staging area for rescuers, and offered a direct view of the Statue of Liberty and the former World Trade Center towers.
A gift from Tsereteli and the Russian people, the memorial is made of steel sheathed in bronze. Standing 100 feet high, its center contains a jagged tear. In it hangs a 40-foot stainless steel teardrop, representing sadness and grief over the loss of life, but also hope for a future free from terror. Etched in granite on an 11-sided base are the names of the nearly 3,000 killed in the 1993 World Trade Center bombings and terrorist attacks on Sept. 11, 2001. //03.25.09 MiNA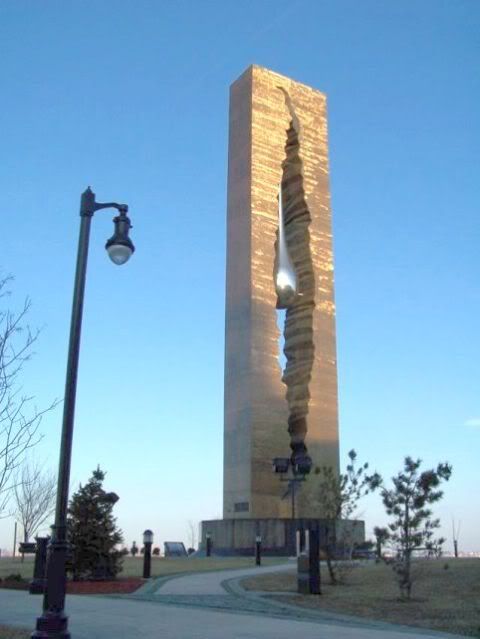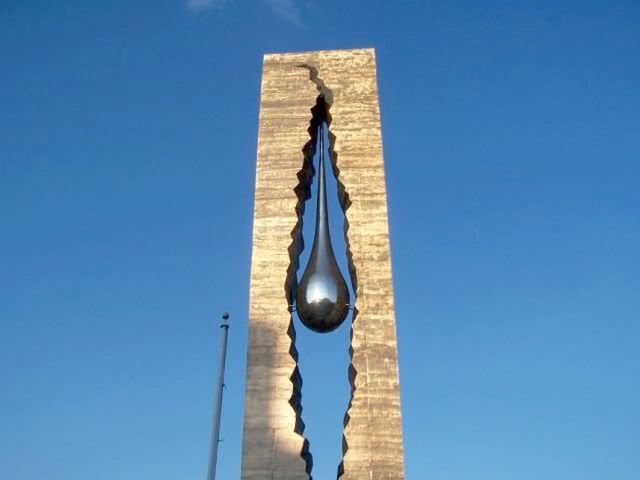 This is "THE TEARDROP", made and installed by the Russians to honor those who died in 9/11 and a statement against terrorism. It is an impressive memorial and is lined up with the Statue of Liberty.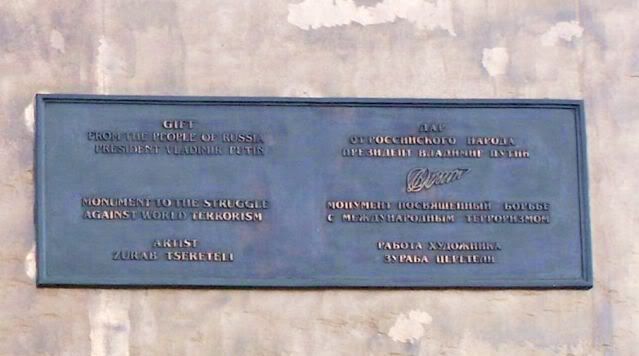 G
ift from the People of Russia.
"Monument to the struggle against world terrorism, artist ZURAB TSERETELI"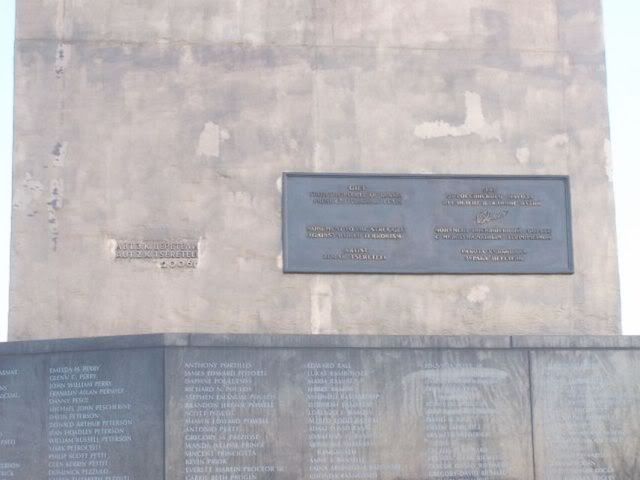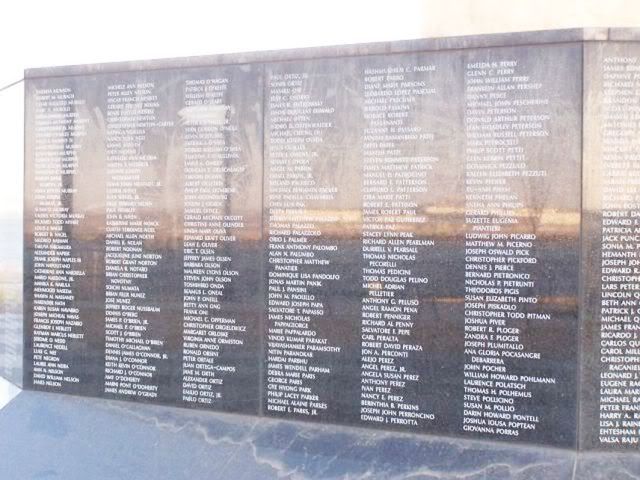 The base is like the Vietnam Memorial Wall, inscribed with the names of the victims of 9/11.
The walkway is made of stones, inscribed with memorials by donors to the walkway.

Built on the tip of Bayonne, New Jersey, down at the shipping yard across from "The Lady".

Slide show of the monument's construction at
http://www.911monument.com/photos.htm"

Portfolio of TSERETELI's works at http://www.newyorker.com/online/2007/06/25/slideshow_070625_tsereteli?slide=1