Whither Now, Palin?
Now that Palin's 15 minutes of fame is over, will she slink back into the obscurity of the wilds of Alaska or will she try to cling to the spotlight, unwilling to to abandon center stage? Choosing her as a running mate was probably one of McCain's greatest errors of his entire campaign.
Hopefully, the Alaskans are as fed up with Palin as the majority of the other states are and will vote her out of office as quickly as possible.
Palin - liar, abuser of power, Fundie, unbridled ambition, follower of Bush practises.
......................
Look alikes: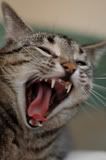 Gadfly compares Palin to a yowling, clawing cat. She once had a cat she aptly named "Psycho Bitch". The cat would wind around your ankles, jump in your lap, purr and pretend to be a pussy cat. Then turn on you yowling like a banshee, clawing and biting. Gadfly's tolerance for this behavior was very brief and then the cat was banished to SPCA tout suite.
.........................

I compare her to a biting dog. The kind that looks Churchillian, wags her tail and simpers, "I'm really just a big, ole lovable family pet and wouldn't hurt a fly." But as soon as you turn your back, sneaks up on you and takes a chunk of flesh from your leg.
...........................
COMMENTS:
betmo said...

oh, ladies, if only it were so. i have a sneaking suspicion that she is going to end up with steven's senate seat and propel her way into the senate. she will then get 'educated' as to what it is that the president and vice president actually do- and she and todd will make another go. she may be gone but she won't be forgotten. sigh. we must stay vigilant.

Worried American said...

Power is addictive and I fear that woman is severely addicted - she wants more, and more is never enough.
Obama became our first black president. It would not surprise me if Palin has ambitions of being our first woman president. A campaign battle between her and Hilary would be.....(supply the descriptive)!!

This election and the massive turnout of voters should be a wakeup call to the Repubs. Plus they are fed up with BushCo policies and the ruination of our country.
Palin comeback in 2010 or 2012> God forbid!!
http://cosmos.bcst.yahoo.com/up/player/popup/?rn=3906861&cl=10548111&ch=4226716&src=news
Labels: Palin -goodbye?