And you call us bitches? I don't speak for Old Woman and Granny, but It's ok with me. Bitch=female of canine animals. OK, so if that's what I am, this is for YOU: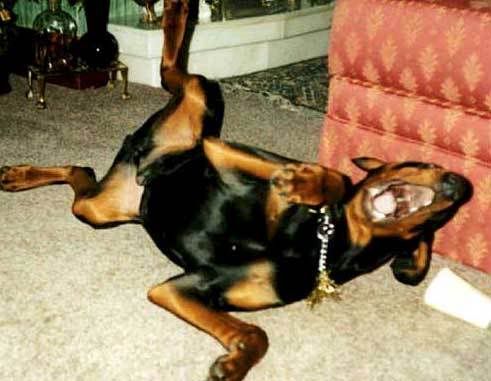 Har-de-Har-Har!!
Go make funny with someone else. There's lots of people out there that need a few good laughs. Bye.
(click on image to animate it.)
Don't let the door hit you in the a$$ as you go.
(click on image to animate it)
COMMENTS:

Granny said...

Hey there, friend.

Why don't you say what you really think?

yellowdog granny said...

I know I come from a state that is full of stupid cows like scared..but I would like to go on record...scared...you stupid bitch...(aka saturday night life)...yeah, bush did all those things?>.....and hows THAT WORKING for the country...sheesh..

Worried American said...

The majority of the citizens are grossly disaffected with the Bush administration but there is that small, blind minority that clings to their loyalty to him. I have said before that some of my dearly beloved relatives are among that minority having been brainwashed by the Fundies.

Arguing religion and politics had always been a bad idea and some people absolutely will NOT engage in debate - it always turns into a stubborn argument. Arguing is an exercize in futility so I shut up but my insides churn and my blood pressure skyrockets when I hear that "Bush is a godly man". Puuuke! They refuse to believe all the bad things he is doing and the state of our nation and citizens.

I have heard them say with gentle understanding, "Poor Mama/Marie, she's just mad about the Prescription D plan" or "She's fallen away from the true path. Let's pray for her"! AAAAGGGGHHHH!

I feel like Cassandra wailing prophecy to the deaf.
Labels: To the Jerkwad