America: VOTE and CHOOSE WISELY. NO Bush Clones
I'm not much on politics; Granny and Old Woman can handle those posts. I just have one thing to say to Americas who failed to vote previously:
'cos look what we got stuck with these past two elections.
I'm NOT endorsing anybody but between the two, I'd make this choice: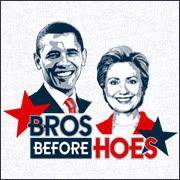 FWY suggested writing in Monk. Sounds like a good idea.
Read Granny's post below!!
COMMENTS:

Hell, Gadfly, how quickly do you think I could become an American citizen so as I could help you guys with another vote?

How anyone in America could vote Republican after Bush is completely beyond me!

I think it is way past time to root out the Repubs and also root out all the yes-men Dems. You know the ones I mean. Those that claim to be Dems but are closet Repubs, right in the Neocon's pockets. Clean sweep. Only way we;ll ever have a chance to take back our country,

Hey Daniel, come on over. You don't have to be a citizen to vote. Do like the illegals do and get fake id. I have a dead relative whose identity you could adopt. We need all the help we can get.

Hi there Yellow Rose. Long time no see. You've been a little slack on your Tex Mex history blog, haven't you? Hope all is well. You're right on the money about the closet Repub Dems. A$$ kissers all.

its not the 'yes men' democrats..it's the blue dogs...yellowdogs like me are of the we'd vote for a yellowdog before we'd vote for a republican...not so the bluedog democrats who might as well be republicans for the way they vote and bend to the 'bush will'...them assholes...

I already emailed you, yellowdog granny but I'll copy what I said to you.

"There are exceptions though. My Blue Dog has stood up to Bush on many
occasions and he has about an 85% approval rating from me. Dennis
knows his constituency and in this barely Democratic district, he'd
like to keep his seat. The alternative would be much worse."

You think I'll go away if you ignore me? I have as much right to my opinion as you traitors do. Bush has been a good president and has tried his best to protect our country. He is a devout man and supports the Christians, the kind you call the Fundies who are also trying to save our people. But you perverts support baby killing, pervert marriages, deadbeats that drain our taxes and whining soldier boys. I think you are all a bunch of (b)itches.

Lezzie (b)itches.

TFWY advised don't feed the trolls. Good advice but I will respond to your comments here and to your email (you said you wouldn't email us?).

In our header we say "Comments welcome, pro or con. Passionate ok but let's be civil". We do accept comments disagreeing with us and yes, you have the right to your opinions, AS DO WE!However, please note "let's be CIVIL". Name calling is not civil behavior.

You seem to think that the relationship between me, Granny Ann and Gadfly is of a sexual nature. You may eliminate Granny Ann from the accusation because she lives in California and Gadfly and I live in Texas. We live on limited retirement benefits and cannot afford to gallivant across the country for fraternizing, sexual or otherwise.(At our age-get real!)

Re: mine and Gadfly's close friendship. IF we WERE lesbians, I would not deny it; I would look you in the eye and admit it without shame. BUT we are not; we are old time friends who are very close. I feel sorry for you that you seem to lack such companionship and are unable to view true friends in any way but within a sexual context.

Opposing viewpoints are welcomed but not name calling. Please be civil.
Granny said...

In case we missed the point first time around.

We get it.

Hurray for the 1st Amendment!!

Scarlet W. Blue said...

I was going to comment but then I got to the comment where the Shrub was a good president and started to laugh, then I started to cry because those people are out there, and they're the mindless monkey-brains who will vote for Suckabee.

God help us. We are so screwed.

Daniel said...

I'm scared by imscared!

Please, imscared, my name is not Daniel, I don't have a blog, I'm not from Down Under, never, I'm going on holidays indefinitely starting right now, I've no answer phone or forwarding address, please believe me and get back on your medication, double the dose, bye...
Labels: vote - bros vs hos