Hate Is Alive and Well On Planet Earth - II
Klan Sued by SPLC on behalf of beaten teenager
a 16-year-old boy, 5-feet, 3-inches tall and 150 pounds, against two reputed Ku Klux Klansmen, the biggest standing 6-feet, 5-inches and tipping the scales at 300 pounds.
Jarred Hensley - IKA's Grand Titan - one of men who beat and kicked teen with steel toed boots.
.Excerpt from an email:

Led by Imperial Wizard Ron Edwards, the IKA is one of the largest and most dangerous Klan organizations in the country. Each year, Edwards hosts a "white-power" rally at his compound, where he indoctrinates followers in hate and violence through speeches, music and the display of violent, racist imagery. They even bring little children to this festival of hate.
You may recall that our client, Jordan Gruver, was attacked by Klansmen who had attended one of Edwards' white-power rallies and were recruiting for the IKA at a county fair. They thought Jordan was, in their words, an "illegal spic." Jordan, who's a U.S. citizen, suffered serious injuries, including a broken jaw.[...]
Update Day 1 of trial: You can read more coverage of the trial on our blog. (SPLC excerpt)

In 2007 I posted about this hate crime against the teen by a hate group at:
hate-groups-are-alive-and-well
In this post - Photo of one of the brave "heroes" involved in viciously beating teen aged boy because he had brown skin (a US citizen of Panamanian Indian descent - the haters thought he was a "spic", illegal alien). and continued at:
continued-from-post-above
more details about the case.
>>>>>>>>>>>>>>>>>>>>>>
Another post about a hate crime although it was prosecuted as a "sexual assault":
hate-crime-survivor-commits-suicide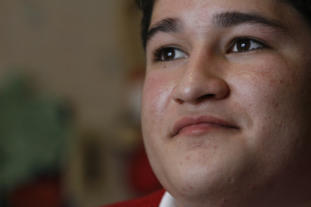 Another hate crime, particularly brutal and sadistic. A long post, relating the teenager's horrific suffering, his bravery in testifying in Washington (in vain - vetoed to protect Fundies and other religious groups who might preach against homosexuality - although the crime was racist, not gay. David was Hispanic, not gay).
COMMENTS:
fjb said...

"They even bring little children to this festival of hate."

That's how hate is maintained. Indoctrination begins in the cradle.

Granny said...

Worried American said...

Children learn by example from role models or peers.They are born innocent without hate or prejudice.

I was struck by this when I was shopping in Krogers. On an aisle I met a young African American couple with a small baby in a carrier seat on their cart. I like babies and looked directly at the little person, who responded to me by spreading his little mouth in a huge smile. So sweet, so innocent, friendly and happy. It didn't matter to him that the person confronting him was old and white. I have noted the same reaction in white babies when responding to black persons smiling at them. They don't care about color, gender or age. It is only later as they are growing up that they learn hate and prejudice.

I recall the incident of a small white child touching a black person to see if the "chocolate" rubbed off; childish curiosity, not in any way prejudicial.

My first encounter with a black person when I was a child on my grandparents' farm. A very large black man had been hired as a field hand during cotton picking season. He was very black, wore a shirt with the sleeves cut out and sweated profusely in the hot south Texas sun. I was fascinated by his appearance of being made of wet licorice and suppressed a temptation to taste him. I knew nothing of racial hatred.
Labels: hate never ends