Hate Crime Survivor Commits Suicide
Update nov. 2008 : Many of the links at bottom are no longer viable. I was unable to find the articles in the Chronicle's archives. Readers interested in more information can do a search for "David Ritcheson - pipe assault victim".
David Ritcheson- victim
Granny has posted about HR1592
http://thomas.loc.gov/cgi-bin/query/D?c110:4:./temp/%7Ec110i3FP25
::
Many people seem to think the proposed legislation is to protect gays; it is not limited to gays but offers legal protection to citizens of all kinds exposed to hate crimes.
The teen aged victim in the following story was not gay, he was a Hispanic-American, and his "friends" committed unspeakable crimes against him while shouting "white power" and uttering racial slurs. He testified in Washington urging passage of the hate crime bill. At the end of this post, note the response of one of our fearless leaders to the pleas of this courageous teen aged boy who ultimately could no longer live with his sufferings.
>>>>>>>>>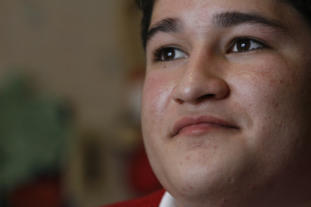 David Ritcheson - victim of hate crime at 16 - committed suicide at 18.

July 2, 2007, 5:10PM


Teen victim of Spring pipe attack dies after apparent jump from ship
LULAC official says family told the 18-year-old went overboard on Carnival cruise


By BILL MURPHY, PAIGE HEWITT and JENNIFER LEAHY

[WA: Rape victims, especially juveniles, usually are not identified nor the specifics of their ordeal made public. Although David's vicious attack was called "sexual assault", the horrific details of the sadistic actions of his attackers was made public throughout the media.


"Tuck and Turner dragged Ritcheson, who was Hispanic, into the backyard, where they taunted him with racial slurs, punched and kicked him in the head and burned him 17 times with cigarettes. They tried to carve a swastika into his chest."
Skin head Tuck, all cleaned up for trial. You look at this attractive teen ager and wonder WHY? HOW COULD YOU?


They beat him with the patio umbrella stand then forced it into his rectum and repeatedly kicked the end of it to drive it further into his body, tearing his intestines and internal organs. He required 30 surgeries trying to repair the damage and still had to wear a colostomy bag (where the intestine is brought to the outside of the abdomen and feces are discharged into a plastic bag.) He not only suffered the horrific physical injuries but the humiliation of everyone knowing the details of his assault, the stares, whispers, outright questions, public scrutiny, media spotlights, 2 public trials of his attackers, an appearance in Washington and terrible psychological trauma. In spite of the fact that his attackers admitted shouting "white power" and using racial slurs during the attack, the crime was not prosecuted as a hate crime. ]

His attackers poured bleach on his face and body and left him for dead.
"I shouldn't care what people think," David Ritcheson said earlier this year. "But it's like
everyone knows I'm 'the kid.'
I don't want to be a standout because of what happened."
Jolyn Hammonds, a classmate at Klein Collins High School, said she was shocked by Ritcheson's death.
"I want to throw up. It's horrible," she said. "I honestly couldn't see David's pain. If he was in pain, he hid it really, really well. He was always smiling, joking around, being himself."
Alyssa Martinez, 16, found out about Ritcheson's death through a myspace.com bulletin.
"He was doing fine. He's such a positive person. He was such a fun person. He would make everyone feel amazing. I don't see how he would've jumped," Martinez said. "When I first met him, like right after that whole thing happened, I asked him about it and he was like 'Oh, let's not talk about that.' He never talked about that. He wanted to talk about other people's problems instead of his own."
Tuck's mother, Sharon Tuck, found out about the incident late Sunday."What?" she said. "Oh my God. I'm so sorry. That shocks me. I feel for them. I'm in shock."
Trial testimony revealed Ritcheson and Gus Sons, whom he'd befriended at an alternative school for students with disciplinary problems, met up with Tuck and Turner at a crawfish festival in Spring the night of the attack. From there, they went to Sons' house, where they drank vodka, smoked marijuana and used cocaine and Xanax, an anti-anxiety drug.
Sons testified that Tuck and Turner attacked Ritcheson because they
(allegedly) believed he stole some drugs and tried to kiss Sons' 12-year-old sister. [ WA: And WHY was a 12 year old child allowed to participate or be present at such a "party"? And if the stated "reasons" were true, why shout "white power and taunt him with racial slurs?"]
Tuck and Turner dragged Ritcheson, who was Hispanic, into the backyard, where they taunted him with racial slurs, punched and kicked him in the head and burned him 17 times with cigarettes. They tried to carve a swastika into his chest. [Beat him with the pvc pipe patio umbrella stand then repeatedly kicked it into his rectum and intestines]
His attackers poured bleach on his face and body and left him for dead. No one called for an ambulance until well after daybreak. [WA: Until Sons mother arose the next morning and saw David's body in the back yard. And where were the other partyers? Why did no one intervene? Why did no one call 911?]
The former Klein Collins High School running back and freshman homecoming prince spent
three months and eight days in the hospital and endured more than 30 surgeries
.
He was coping with the past, he said last spring, "by not thinking about it." He declined psychiatric help.Ritcheson called on Congress to strengthen U.S. hate crime laws."I appear before you as a survivor," Ritcheson told members of a House Judiciary subcommittee April 17. "I am here before you today
asking that our government take the lead in deterring individuals like those who attacked me from committing unthinkable and violent crimes against others because of where they are from, the color of their skin, the God they worship, the person they love, or the way they look, talk or act
."
[WA: see links below for response to his plea]
Chronicle reporter Cynthia Leonor Garza contributed to this story.
bill.murphy@chron.com
paige.hewitt@chron.com
jennifer.leahy@chron.com
Victim describes attack, impact on his life (April 17)
Hate crimes bill advances on Spring teen's testimony
Associated Press
But he said other hate crime victims are not as fortunate and need the federal hate crimes law. Hate crimes are a stain on our national heritage.
04/27/2007

House OKs hate-crimes expansion; faces veto

By JIM ABRAMS : Associated Press
It would approve $10 million over the next two years to help local law enforcement officials cover the cost of hate crime prosecutions.
05/04/2007

Spring teen's death spurs fight for hate-crimes bill

By PATTY REINERT : Copyright 2007 Houston Chronicle Washington Bureau
She said she intends to amend her legislation, nicknamed "David's Bill," to include funding and counseling support for the victims of hate crimes.
07/02/2007
Excerpt:
"Rep. Louie Gohmert, R-Tyler, who led the opposition to the hate crimes bill in the House, told Ritcheson this spring that he sympathized with him but
opposed
giving what he considered
special protection
under the law for victims who are
gay or transgendered
. He said he fears that religious leaders could be targeted under such a law
for preaching against homosexuality.On Monday, Gohmert issued a statement saying: "It is heartbreaking that such a gifted young man would bring an early end to such talent. Our thoughts and prayers go out to all of David's loved ones. Though two of his original attackers received 90 years and life, clearly they did devastating long term damage to him mentally and emotionally." [ WA: And cost him his life! Many people, especially the young, do commit suicide after suffering horrific trauma.]

[WA: Yet he would refuse the vote for the hate crimes bill that would cover such crimes as those committed against David by White Power racists because it would give special protection for gays and transgenders, citizens who are special targets for haters? (As are minority citizens) And to "protect" the fundies and other gay haters? Preaching against a disapproved action, behavior or life styles is a far cry from physical assault. His objection is specious, clearly catering to the fundie crowd.]

[WA: Some people object to an additional federal law because a federal law already exists. See the excerpt below for the proposed bill vs. the current law.]

"The bill defines such crimes as those motivated by prejudice based on the actual or perceived race, color, religion, national origin, gender, sexual orientation, gender identity, or disability of the victim or is a violation of the state, local, or tribal hate crime laws.Under current law, hate crimes can only be prosecuted at the federal level if the crime is committed while the victim is carrying out a federally protected act, such as voting, Conyers said."


Labels: Hate Crimes - Victim Suicide
posted by Worried American @ 7/07/2007 05:33:00 PM