I'm Ba-a-a-a-ck
I'm back. Thanks to Granny and Gadfly for keeping the home fires burning on IAB. Gadfly doesn't usually post a lot so her involvement is a testimony to her friendship. Granny has had a hard time the past year in addition to being very busy, and her posts have been sorely missed. Reviewing the Archives reveal Granny's previous activities on this blog and numerous truly excellent posts! So very glad to see Granny Ann posting here again!
I would have remained in my 7th floor apartment during the hurricane but daughter Jeannie has a pathological fear of thunderstorms and tornadoes. Since hurricanes are super storms on steroids to her and often spawn tornadoes, she was terrified beyond measure. Readers may recall that last year when the Coast evacuated for Rita, Jeannie was so terrified that she fled all the way to Oklahoma - right in tornado alley.I was called upon to evacuate her from the danger zone.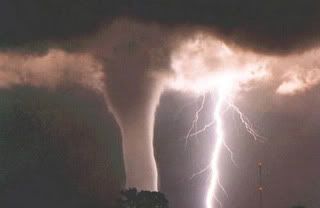 Jeannie's Worst Nightmare
I thought to bring her to my 7th floor apartment but she refused to leave her 3 cats and dog with her brother to babysit and insisted on bringing them too. However, there were objections to me bringing a large dog on the premises. Since the storm was predicted to enter around Galveston, pay Houston his respects, then curve north/northeast to visit neighboring states (ultimately all the way to Canada - friendly guy), I elected to route westerly. Two frustrated hours later on the internet and after finding NO hotel or motel vacancies, I picked up The Wild Child and she, Jeannie and I went to the farmette to join son Terry. To say that he was not pleased to be saddled with the responsibility of 3 family females during a massive hurricane is an understatement. "You left a solid concrete and steel apartment building to come out HERE?"
News reports said that some evacuees, unable to find shelter, were camping in parks! I was NOT going to park outside in the van with my two daughters! The farmette was preferable to THAT!
Terry had brought home the huge diesel truck to which he had strapped down a monster metal something to weigh down the truck bed and give it greater stability. (Trucks are lighter in the tail and tend to be unstable under certain conditions). He had planned to use the truck to evacuate if things got bad. He ordered his family females if he said "GO!" we were to run to the truck without taking dog, cats, luggage, ANYTHING - if he had to drag us by our hair! I personally thought that the storm was about 500 miles wide and if it got "bad", where in the hell he thought he'd run to??
Also, aware of the vagaries of hurricanes, I wondered if the truck could hold the road if it got "bad". But I wisely said nothing. Adult sons are men and in times of great stress it is best not to hassle menfolks.
This toppled 18 wheeler proves running in a diesel truck might not have been a good idea under bad conditions. Ike was quite powerful.
Terry had set up a big generator so we had lights (limited usage), TV in the TV room and two of the bedrooms, fans in kitchen and living, sleeping rooms, power to refrigerator and freezer. We were quite comfortable. No water, but we had plenty of bottled water stockpiled for drinking and cooking, and Terry hauled water from the swimming pool for toilet flushing.
The outer bands of Ike were at first about like our familiar Houston gully washer, frog strangler thunderstorms but they got worse. The wind gusts were predicted to be about 75 to 95 mph that far inland and I had estimated the farmhouse would take it -- barring Jeannie's nemesis, tornadoes. There is little one can do about them. The house trembled a bit from time to time but held firm.
The blasted eye passed directly over us! It got very quiet and still and we waited for the return on the down side and it hit with sledgehammer force. The winds are most powerful around the eye. Then - crapola! Terry went rigid, his eyes wide and said, "There's no trains running tonight!" Trains were grounded; anyway, from the farm's location one can faintly hear train whistles but not the roar of the engines. But the distinct rumble and roar of a train was heard. Later I heard the sound again. We KNOW what that sound means! The house shook but seemed stable. There were no reports of tornadoes (who is going to be outside watching for one to report it!?) but obviously there were. Later, the insurance adjuster and the contractor discovered the western end of the house was moved off its foundation blocks and will have to be re-positioned and leveled. Also, the top of the huge tree by the chicken house was twisted like a hand- wrung towel. We were exceedingly fortunate that the tornadoes passed near overhead and not on the ground.
We were very fortunate and there was limited damage to the property. On the down side the roof lost a number of shingles and water came down through the sheetrock and soaked the carpets for a distance out into the room. Only one bedroom had to have the carpet and padding completely removed; the TV room and master bedroom carpets required propping up to dry a few feet from the wall. The wet sheetrock walls and ceilings promptly bloomed with mold from the heat and humidity. There is many thousands of dollars damage BUT much less than that many people suffered, especially those close to the coast that had nothing but bare concrete foundations left. Like these:
Before Ike - lovely home
After Ike -Home washed away to concrete foundation - debris covered
................................................
Jo and Lloyd took emergency leave from their jobs in Iraq to come home and attend to the necessary paperwork and contractors for the hurricane damage. They were lucky to get an insurance adjuster so quickly for the short time they were home. They flew back today (wednesday Oct. 1st) and Terry will have to deal with all the contractors and the hassle of repairs and construction. Jo and Lloyd will return for their normal R&R at Thanksgiving.
And I am back in my apartment. Later I will publish some hurricane pics as several emailers have asked for some. There are only about a kazillion on the internet.
In the meantime, check out the today's hurricane pics in Galveston at
Galveston destroyed in hurricane 1900
for historical news plus Ike slideshow. Set pointer on bottom edge of pics for pause, forward, back arrows.
COMMENTS:

betmo said...

holy crap in a bucket! glad that you are all safe! if it's any consolation, we got a crapload of rain from your hurricane here in new york. thankfully, no major flooding though.

Kvatch said...

What's pathological about being afraid of tornadoes? I lived in Lubbock for six years. One of the damn things tore through downtown back in 1970. (Lived in Florida as well, so I have some experience with hurricanes too.)

Doesn't seem pathological to me. ;-)

Granny said...

So glad you're back and safe!!

I agree with Kvatch about tornados having been in a whopper in Jonesboro, AR back in 1973. I remember hudding in our closet with Sons Jim & Tim (then an infant) - mattress over all of us. It missed but not by much.

We had two, 5 years apart (although I wasn't there for the first) which took down the local high school about a block from where we were living during the second which took down the high school on the other end of town.

Not too fond of earthquakes either having been on the 19th floor of a San Francisco office building in October 1989. (The one which stopped the Giants/Athletics World Series and took down part of the Bay Bridge). I'm sure Kvatch remembers it too.

Never a hurricane though - yet.

Worried American said...

Kvatch and Granny: It is merely common sense to have a healthy fear and regard for heavy storms, tornadoes, earthquakes, volcanoes, etc. Jeannie's fear goes beyond that to a hysterical terror. She has had nightmares about tornadoes since early childhood, even though she had never experienced one, and is convinced she will die in one.
Her fear of storms developed after she learned that they spawned tornadoes. Now, to her, the two go hand in hand.

Thanks for your concerns about us. Betmo, Ike bedeviled many of our neighbors toward the north/east coastal areas. I'm glad you had no flooding. Too many people have had bad floods this year.

I am wary of hurricanes, having experienced many during my lifetime on the Gulf Coast and well aware of their destructive power. I am afraid of those sneaky tornadoes. We have a relatively small one in the Houston area during thunderstorms and hurricanes. A few have been large and destructive, but so far none have equaled the ferocity of the ones in "tornado alley".

I was in Italy when a major quake struck north Africa and the Mediterranean coast but returned in time to experience a number of aftershocks. Our California co-expatriates were blase about them but us Texans and Louisianians were very disturbed about Terra Firma turning into Terra Jello. I feel about them about like I feel about volcanoes. I want no part of them.

P.S. Kvatch: where's your avatar? I especially liked your little man beating his head against his computer, although the Charlie Brown one was cute.

The Future Was Yesterday said...

Hurricanes are a new event to me, being a Michigan boy. Tornado's are a far more destructive storm imo, but they only last 5 minutes or less.

I've never been in the direct path of a Cat 2 and up, girl cane, and if I ever am, you can bet on my skinny ass running like a rabbit! I might stop in Canada to gas up, then it's on the road again!

Living in the Carolina's for the last 10 years, we've been in the path of some pretty good rain bands and winds. The wind I can handle. This far inland, they would be called a stiff breeze in Michigan. But the rain! We're in a drought now, so the two+ inches Ike gave us was a blessing. But I have been thru some
"rainbands" in NC in which I've seen compact cars "floating down" the same F'ing road they used to drive down!

I told my wife then. "If the rain bamds look like they're gonna get too bad, we're Gone!!"

I'm sure glad everybody's ok! I really worried when I saw how Ike kicked Houston's ass!...(: I can not imagine living in such a place!!

Worried American said...

Thank you Dan'l. I understand where you're coming from. I guess it boils down to the devil you know...! Our relatives in California exclaim in horror, "How can you live where there's hurricanes?" and we retort, "My God! YOU live where there's earthquakes!" At least you have advance warning about a hurricane and can rabbit if you have good judgement.
Houston got a pretty good kick in the butt - not as bad as Alicia kicked us or Tropical Storm Allison but our coastal cities REALLY were wiped, and Galveston got it BAD.
Re: cars floating down the street: I used to have a little Renault and after a Gulf Coast gully washer storm/flood, we discovered it floating merrily down the street. Kids thought it was cool but husband was unhappy.
I'll post pic sites later for anyone interested.
Labels: i am back - hurricane news