Prayers of the Innocent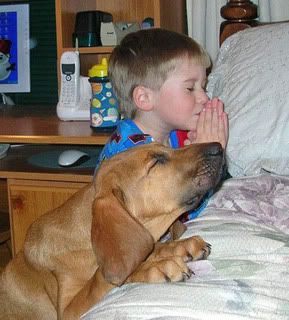 I don't know too much about the effectiveness of prayers, but from what I'm told, the prayers of the innocent and of the truly faithful rate higher than those of lesser beings. So- does the Pope's prayers rate high on the heavenly scale of one to ten because he is considered a truly faithful? Whose rates the highest - the child and his dog, the innocents of this world? Might be sacriligious but I'm betting on the kid and the doggie.
COMMENTS:

ThomasLB said...

I was pleasantly surprised by the Pope's visit. I appreciated that he met with victims of the sex abuse scandal and made a point of meeting with representatives of other faiths.

It would have been nice if he had said, "You know what? We were completely wrong about homosexuality and birth control. Sorry about that." But that's never going to happen.

A willingness to meet with people who disagree with him is a step in the right direction, and it's a step I didn't expect him to take.

Gadfly: Thanks for stopping by, ThomasLB. It is not likely that the Church will reverse its position on homosexuality and birth control. The anti-birth control stance is strange to me. The infant death rate is horrible in poverty stricken groups, like the hispanics in the colonias outside major so. american cities. Yet the church teaches the faithful catholics that bc is a sin. I think bringinmg babies into the world to die of disease and starvation is the bigger sin.




The Future Was Yesterday said...

The PooP may be faithful, but then so was Hitler.



Labels: prayers of the innocent