Worried Checks In.
Ok, I admit it. I'm an addict. Could not stand being deprived of my internet/blogging fix and was going through serious withdrawals. Even though I got the computer and mouse working again, all efforts failed to get the keyboard working. By clicking on "Favorites" I could surf my favorite bloggers and any news sites I could click on, but was stymied at accessing anything that had to be typed in. Son Terry wasn't back from New York to install my new computer, the withdrawal symptoms were getting really bad so I broke down and purchased a new keyboard! Worried is back online!
First, a big thank you to my partner Granny Ann for carrying on alone valiantly in spite of her heavy load and for publishing her usual excellent posts.
Update on the home front: the oldest and the youngest of the Thundering Horde.
My 98 year old Mother, that daughter Jo nicknamed the Energizer Bunny because she just keeps going and going, who has kept us on the emotional roller coaster of anxious death watches and amazing recoveries has done it again. After her last hospitalization we moved her to a new nursing home under Hospice care (again). And again she has bounced back, wheeling herself all over the facility, singing songs and amusing the nurses. Her health has so improved that her doctors have dismissed Hospice. She is an amazing lady.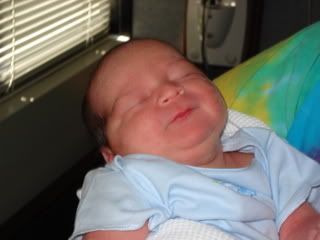 The newest addition - great grandson Llandon weighing in at a roly poly 8lb. 8oz. I will get to see him in person in December. Daughter Jo has already purchased my airline ticket to fly to Tennessee for a family get-together combination belated Thanksgiving/early Christmas with Army grandson Gene and family. Jo and Lloyd are flying in and also have purchased tickets for their daughter Patsy and her 2 children, so we'll be flying en famille. It will be a great time. I have been having some health problems but am determined to be stablized in time for the trip.
Cheers, Everyone.
COMMENTS:
Granny
said...
Granny hasn't been doing a lot, WA, but at least our friends know we're still around.Enjoy your trip and the newest addition to the family.Ray's recovering nicely from the surgery and many of his pre-surgery problems seem to have left.
Thursday, October 11, 2007 11:30:00 AM
Daniel
said...
Hey Worried, I leave you alone for a few days and look what mischief you get into to! Granny has been doing a magnificent job holding the fort as usual. Great to see you two gals giving those who deserve it what for! I'm sure if you showed up at the White House, George would abdicate his throne immediately.Take care.
Friday, October 12, 2007 1:53:00 AM
Worried American
said...
Thank you, Daniel. Perhaps Granny and I should organize a Million Granny March on Washington.
Saturday, October 13, 2007 4:01:00 PM
Labels: Checking in