Safeguard

"There is one safeguard known generally to the wise, which is an advantage and security to all, but especially to democracies as against despots. What is it? Distrust." --
Demosthenes: Philippic 2, sect. 24
COMMENTS:
I hate to say it but distrust is in large part what makes America, America. The religious distrusting each other; Citizens distrusting their leaders; Racial, social, gender, economic segments ditrusting each other. It's part of who we are, but that said, boy is it tiring.
#
posted by
Kvatch
: Monday, April 09, 2007 2:07:00 PM
Good to hear from you. Hope all is okay.
#
posted by
Granny
: Monday, April 09, 2007 2:37:00 PM
As I was taught in seminary: "Question everything."
#
posted by
Sometimes Saintly Nick
: Tuesday, April 10, 2007 6:34:00 PM
My father taught me many years ago to never trust a politician (specifically politicians), as all of them are "a bunch of damn liars" (paraphrasing dad, here). In his opinion, you listen objectively to what they have to say, then pick the best of a bad bunch. This came from a man who loved the democratic process and fully appreciated it. From the time I was old enough to understand, I was reminded that if I couldn't be bothered to vote, then I had absolutely no right to bitch about my elected government. It wasn't until much later in life that I fully appreciated what he taught me. Peace,Fiona
#
posted by
fjb
: Tuesday, April 10, 2007 9:21:00 PM
I was born during the post-WWI/pre-WWII era, and grew up in the Mom, the Flag, and Apple Pie mentality. I had complete trust in our representatives and our government, especially our presidents. After all, America was the "good guys". Only upon maturing and discovering how the public had been lied to, deceived, and secrets kept from us of less than honorable policies and actions by our government did the true betrayal of public trust become evident. I learned to maintain a degree of skepticism and my father's Missouri attitude of "prove it!" before swallowing whole any politician's rhetoric and line of bs.I have been accused of being paranoid. Maybe so, but I'd rather be paranoid than a darn fool sucker as I was in the past. I blush to think of the heated defensive debates in which I engaged in my younger years against "traitorous, disloyal" opponents who dared criticize my government, only to find out later that I was misled and my opponents were 100% correct.The Bush administration has perfected this deceit to a fine art and shows not the slightest remorse or shame even when publically exposed to the entire world; the lies and deceit goes on. ="It's important to realize that whenever you give power to politicians or bureaucrats, it will be used for what they want, not for what you want."-- Harry Browne =
#
posted by
Worried
: Wednesday, April 11, 2007 11:22:00 AM
Harry BrowneFrom Wikipedia,
http://en.wikipedia.org/wiki/Harry_Browne
Harry Browne Born June 17, 1933 Died March 1, 2006 Occupation Writer, Politician, Investment analyst Harry Browne (17 June 1933 – 1 March 2006) was an American libertarian writer, politician, and free-market investment analyst. He was a U.S. Presidential candidate for the Libertarian Party in 1996 and 2000.
#
posted by
Worried
: Wednesday, April 11, 2007 11:30:00 AM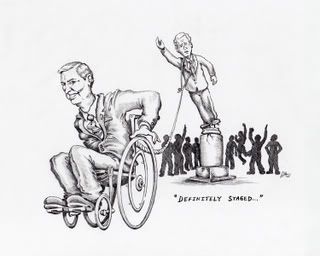 Harry Browne pulling down a statue of Bush
David Cho
said...
Interesting how you have set up the comments. the site is looking better.Distrust simply means not taking things at face value. What kvatch is talking about isn't necessarily distrust, but the us-against-them mindset - trusting "us", but never trusting "them." That is a unhealthy debilitating combinations. It would be nice if Republicans would distrust their own party leaders every once in awhile instead of blindly trusting them while always distrusting Democrats (the same goes for Democrats).
Thursday, April 12, 2007 2:17:00 AM
The Future Was Yesterday
said...
Distrust, coupled with discord, is (was) the backbone of America. "Why?" is the single greatest word I ever learned.
Thursday, April 12, 2007 8:52:00 PM