WTF is going on NOW??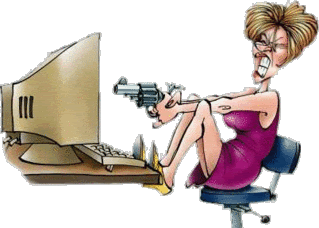 Quoting The Gadfly as she commented on a recent visit to my Bedlam in response to hissy fits I was throwing. There are several causative factors for hissy fit throwing at present. Too many to explain at length. I'll mention two.

ONE is: KVATCH's dearly beloved avatar, the multicolored frog, is not displayed on his latest comment NOR on his profile page (latest check). Just a white square with a red dot in corner. That is not to be borne!! Nor could I access his blog! I get a message that the connection has timed out blah blah blah. KVATCH!! What's the deal??
Kvatch Frog, Come Back!!
Update: He's back!! At least for now.

Two: A week long battle with the Dastardly Duo, Blogger and Google. For some reason this blog's sidebar has once again been scattered like a train wreck under the posting section at the bottom of the page. In the past this happened because text of a post extended into sidebar territory, causing the sidebar to be pushed way down and under. Bringing the posting text back into proper boundries solved the problem. UNLESS I was using Internet Explorer for my browser, then any type of malfunction was possible, including a final insult of publishing the orange header all the way to the bottom of the page with text letters several inches tall. I switched to Mozilla Firefox for my browser and rarely had problems after that.

But now this! I cannot find a solution to the problem and neither Blogger nor Google offer any help. They DO offer several THOUSAND posts to peruse on Group Help. Thanks, Guys.

Update: It's a miracle!! Now that the Dastardly Duo has driven me to the point of utter exasperation, tonight the sidebar is miraculously restored. Cross my fingers!!

Up=Update: Now it's disappeared again! What is going on???


COMMENTS:

Dunno about Kvatch.

Lose that loopy classic template cures all your problems, unless you put your fingers in the pie of the new one!:)

Undoubtedly this is good advice, my Friend, but I cannot make heads or tails of that Layout stuff.

Sidebar is ok from your viewpoint, Granny?? Then the glitch must be in her computer, even though all her other blogs are just fine. She'll throw another hissy fit when she reads this.

It's still okay from here. I never use IE - always Firefox so that might be part of it.

I looked at the borders and it doesn't appear do have anything pushing the text down like it did before.

Weird. Hope you're okay. We're getting a little water logged which is alright since we've been heading for a drought here in the CA central valley.




Worried American said...

Problems with IE was in the past. That's why I use MF exclusively the last couple of years. I have very few glitches with MF.

Gadfly uses MF when she uses my computer and so does Wild Child. Jeannie uses my computer sometimes for her Face Book and Tagged sites and she might use IE. I'll have to ask her,But even if she does, I don't know how that would affect IAB and none of my other blogs.

Strange.

Lot of family problems but otherwise OK. here. Lots of droughts in US places and the rest of the world. Scary.

Labels: dastardly duo strikes again