Dems Get Religion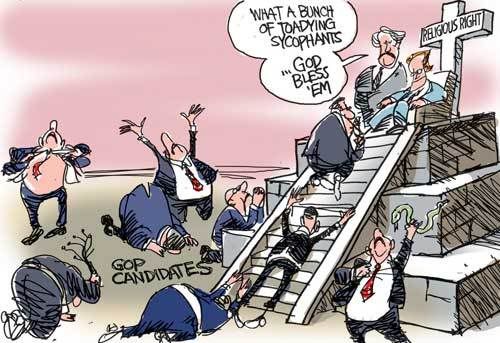 >>>>>>>>>>>>>>>>>>>>>>>>>>>>>>>>>>>>>>>>
http://www.time.com/time/politics/article/0,8599,1713269,00.html
The Dems Finally Get Religion
Callie Shell for TIME
Backstage at the Target Center in Minneapolis before a rally earlier this month, Barack Obama engaged in one of his pregame rituals: the presidential candidate joined a circle of young campaign supporters and staff, clasped hands with those on either side of him and prayed.
Podcast
TIME National Editor Amy Sullivan on her new book The Party Faithful: How and Why Democrats are Closing the God Gap
Hillary Clinton, his rival for the Democratic nomination, has talked on the campaign trail about the "prayer warriors" who support her, and her campaign has made sure that primary voters know that Clinton used to host church picnics at the governor's mansion in Arkansas.
If the Democratic ticket in November is able to capture a greater share of religious voters than in previous elections, it will be because both Obama and Clinton have rejected their party's traditional fight- or-flight reaction to religion. For decades, the men and women who ran the Democratic Party and its campaigns bought into the conservative spin that the faithful were pro-life, right-wing and most certainly not Democratic voters. Armed with this mind-set, political professionals gave themselves permission to ignore religion and the religious. And in 2004, John Kerry paid the price for that decision.
That year, the Bush-Cheney operation did more with religious outreach than any other campaign in history, deploying a massive parish- and congregation-level mobilization effort. In Florida alone, the gop employed a state chairwoman for Evangelical outreach who appointed a dozen regional coordinators around the state and designated outreach chairs in each of Florida's 67 counties. Every county chair, in turn, recruited between 30 and 50 volunteers to contact and register their Evangelical neighbors.
To read remainder of article, click
here
[WA: They kiss up to the Fundies and Evangelicas to garner votes. After election, how much will they continue to pander to the theocrats and aid them in the move to take over?]
>>>>>>>>>>>>>>>>>>>>>>>>>>>>>>>>>>>>
COMMENTS:

A number of observations. 1. The Democratic Party is no longer. It's now the left wing of the Republican party. 2. Religion is being used (as is everything and everybody) for political purposes. If chewing tobacco was suddenly "in", we'd see spitting contests moderated by Chris Mathews. 3. Millions have fell for the bullshit that the Reich wing "owns" religion, and in order to win, they have to be as religious. 4. Every person I have ever met, without exception, who beats loudly "I'm a "_____" religion wise without being asked, has turned out to be a flaming asshole and phony. 5. The Democratic party turned themselves into willing whores, to get elected. 6. Then there's "Evangelical Democrats..(: And I better scoot before the air turns blue.

Dan'l, I think the other members of this blog and their readers have heard/read blue and even purple prose at times. They follow your blog, don't they, and it isn't known for snow white purity of prose.

Agreement all around on your comments. I think following the teachings of jesus as in basic ways to live civilized lives is more important than ascribing to some strait laced brand of religion that "interprets" teachings according to their way of thinking but lives hypocritical lives.

I like the dog. *shrug*

Is it OK to bash Hillary a little here?

Not that Obama doesn't have his Wall Street $, iffy real estate buddy, and Penny Pritzker as his campaign finance chairman.

Hey it's Amerika! Okay, I'll try to contain my cynicism. Sorry.

gdaeman; welcome back. Always glad to see you. Go ahead and bash away. We do not limit comments and input to visitors that rubber-stamp our views. Different opinions can be discussed amicably. Ofcourse, Hilary bashing is freely done here. :) In fact, ALL the leading candidates are freely bashed.

In the past we've had the choices of the lesser of two evils as opposed to the best person for the job, but this election is the very worst time of being forced to choose the lesser of two evils - if one is lesser than the other and not equally evil. All the potentially honest candidates have been or are being forced out by corrupt clout of their opponents and/or the corrupt media so they get no exposure to voters.

Plus the money factor. Campaigning is horrifically expensive and only the corrupt or weakly stupid candidates get the big bucks donors on their side. Check out the campaign donor section for Obama, Hilary and McCain on "Choices08" blog (url in marquee scroll at head of this blog).
Labels: dems get religion