Worried's News
This old great-grandma is utterly exhausted but very pleased tonight. It has been a run-run week with brief periods of vegging out. The apartment, Sheba the Cat, blogging and other duties have been quite neglected. (And no, FWY aka Dan'l, I have NOT forgotten the meme! Just waiting for some downloads.) Patience, Friend.
The Wild Child spent nearly a week with me. She needed to get out of her self imposed hermitism. She is so depressed that she tries to crawl in a hole and pull it in after her. Her surgeries were a success but the medics still wanted to do chemo - but had to 1) complete her other surgeries first, and 2) get oks from her other specialists. FINALLY they were ready to start the chemo but did a final battery of tests first. Bad news - the tests were alarmingly bad. So postponement again while they refer her to Baylor College of Medicine for evaluation and other opinions. We wait on pins and needles as her health deteriorates. Dialysis is one of the bug-a-boos she fears.
One good thing. She separated from Earl the Finest Pearl. Thank God! They have been living in their RV bus the past year or thereabouts. She had been unsuccessfully trying to make him leave but he hung in there. So one day while he was gallivanting around, she had son Frank and friends come over, dismantle the deck, pull up stakes and drive the bus away to her son-in-law and daughter's property in the piney woods about 15 miles from Jo's farmette and she settled there. (They live elsewhere). Earl didn't know the location. Peace and quiet and no extra stress. Earl returned home to find that both wife and home were gone.
Onery husbands take note: if you live in a moveable home, don't bank on the wife not knowing how to drive the big thing. Other men DO know. Hah!! I dare say Earl was exceedingly surprised.
I left Wild Child at the farmette while I went to the airport to pick up Jo and Lloyd who just returned on R&R from the Middle East. Son Terry took off work early to be home to greet his sister and bro-in-law and took all of us out to dinner. It was good to hear the siblings laughing and hoorawing each other, and Wild Child's spirits improved greatly. Saturday the kids took me on a shopping spree and Jo bought me a new wardrobe! Three 3 pc. pants suits, two 2 piece pants suits, assorted pants and blouses for mix-and-match, jewelry to complement the outfits, a lovely woolen shawl, 2 bras and other items. I refused new shoes as I have plenty that I rarely wear. Jo, Wild Child and I then went to a salon and got manicures and pedicures, treated by Jo.
Wild Child admired some little John Deere ornaments so Lloyd bought her a John Deere bank. and enclosed a $100.oo bill. These goodies in addition to all the gifts they brought us from overseas (they laid over in Germany - good shopping in Dubai as well as Germany). Jo and Terry gave Wild Child scads of stuff and we had the minivan loaded to the gunwales with our loot. Except the pants to all the suits Jo bought me and one of the jackets. She had to take them for alterations because the pants were too long and the sleeves too long on the jacket. Jo is an excellent seamstress (used to custom make wedding gowns, etc.. ) but she has no time for tailoring right now.
I took Wild Child home this evening and helped her carry in all her packages and bundles. She was weak and tired but in very good spirits. It was good to have her act like her old self. It made me happy to see her happy. She is normally such a nut and it is great to see her mischief back again, even temporarily. (The fact that she is nicknamed "Wild Child" is a hint to her personality! She nearly drove me crazy during her salad days.)
...................................E.M., The Wild Child, also known as Anut...
This next week I will be on the run again. Tomorrow I meet Jo for a perm and haircut. Tuesday our complex and apartments are to have a State Inspection. I have a medical appointment. Thursday back to Jo's to spend the night and catch a 6 A.M. flight to Tennessee Friday where we will have a 4 day combo Thanksgiving/Christmas with Gene and Monica (my Army grandson and family, and I get to see my new great-grandson). Other relatives are also flying in so it will be a busy weekend. Return to Houston Tuesday night.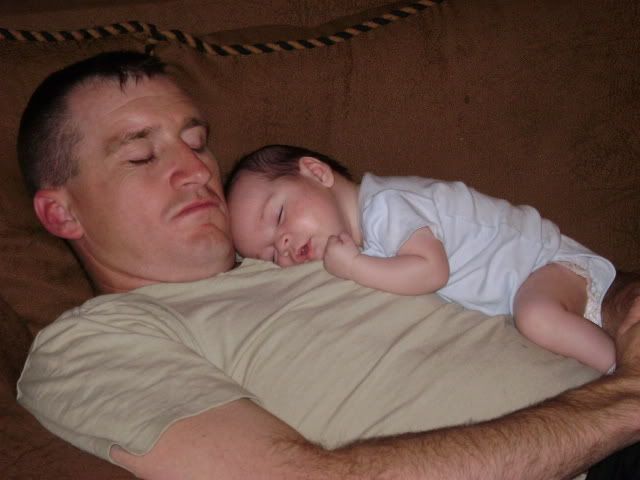 Army soldier, grandson Gene with newest addition to family, son Llandon; father and son napping together. Friday night I can hug and kiss Gene and hold and love the baby!!
So dear hearts and gentle people, Worried probably won't be online very much. Since most of you will be busy with pre-Christmas doings, you probably won't be online a great deal either.
COMMENTS:

Mary said...

Sounds like quite the outing and much needed too. I'm pulling for Wild Child.

The picture of you grandson and his baby is precious! I haven't held a little baby in so long. My Army son is just back from Baghdad too. Can't say I've seen him much as he's only 21 but that's okay. I'm just happy he's here.

Worried American said...

Mary; Thank you for your positive thoughts for the Wild Child. It is a hard thing to face the possible loss of a child. Parents aren't supposed to bury their children. It happens, especially during hostile times and catastrophic illness but it isn't the natural sequence of events. It is a hard, hard thing to listen to your child plan her possible funeral; pre-planning is wise but I hope and pray she will live to see her great-grandchildren as I have.

In the natural course of events, your 21 year old son will provide you with grandbabies in time.

Thank God your boy is home and I pray he will be able to be re-posted safely. Gene spent two tours of duty in Iraq and was scheduled for a third. But because of combat related health problems, the Army, in its infinite mercy, is now scheduling him for Afghanistan deployment in the spring. So good of them! :-( I wish all of our sons and daughters were home safely.

Granny Ann, my partner on this blog, lost her daughter to cancer not too long ago. This has been a tough year for us two old great grandmas.
P.S. Do you know Marty at http://onthehomefront.blogspot.com ? She is an Iraqi War mom; her son spent 2 TODs in Iraq. She is very active in veteran affairs.
Granny said...

WA, I read this earlier and couldn't find words.

I'm so very sorry about your daughter and will pray for better news in the future.

And yes, I think I do know some of what you're experiencing. We go on but it's not the same. We shouldn't outlive our kids.

Much love to all of you.

Ann (aka granny)

*Goddess* said...

Awww, I love to see pics of dads and their babies. They both look so peaceful:)

Worried American said...

Granny, you have been through the grinder this past year. I can only imagine what you've been through with all the tragic emergencies in your life. You have coped admirably well, although I know it was difficult.

Goddess; thank you. Ofcourse, being a biased great grandma, I think it is sweet too.

The Future Was Yesterday said...

There are things vastly more important than mimes, namely you, your health, and that of your friends. This ole man ain't goin' no where Hon, so you just take things at your own speed!

WA: Thank you, Dan'l. I know you'll cut me some slack. You're a good Friend.
enigma4ever said...

oh my much love to you and yours and many prayers and light....so sorry that you are going through all of this...it has been such a year for soooo many...so sorry....

please take care....and know that many of us hold your Wild Child in our thoughts....

namaste....
WA: Thank you, Enigma. Every prayer and positive thought is a blessing. And everyone - please hold Granny Ann up too. She has suffered so very much this past year. We are thankful that at last Ray is doing better since the medicos FINALLY diagnosed him properly, did the surgery on him that relieved his worst medical problems and took some of the stress and worry off of Granny.
Labels: Worried's weeks