In Defense of Kucinich and UFO Flap
I had never heard of Kucinich until the presidential candidates stepped on stage. Granny, who keeps up with internal politics more than I do, enlightened me about the credibility problem for Kucinich, probably ONE reason he is ostracized. Possibly the media moguls didn't want the planned progress of the debate to be sidetracked by derisive remarks about UFOs, although the main reason may have been that he doesn't play footsie with the neocons, etc.
They certainly don't approve of a candidate who won the Gandhi Peace Award and who has a record of bucking Big Business. He has had severe financial reverses and well understands the position of the poor, unlike some (most) of our wealthy candidates.
He has been made a laughing stock because he says he saw a UFO and heard messages from it. Well, what is a UFO? A flying object that is unidentified by its viewer. So often the reaction by someone who sees a puzzling object of that nature is, "What in the hell is THAT?" Unfortunately, there have been so many UFO reports that defied credibility that all statements of seeing an unexplained flying object are met with skepticism to outright derision. ( President Jimmy Carter also said he saw a UFO>)
And hearing a message from such an object? He is laughed at . Yet our Fearless Leader/Decider/Commander states he has little fireside chats with God Almighty who tells Bushie what to do, and too many idiots accept it as Gospel fact. At least there is a possibility that messages from a flying object COULD be some sort of radio transmission. I have serious doubts that the power of the universe chats with Bush.
Do I believe in UFOs? Definitely not those carrying little green men from Mars, or who come from fantastic civilizations on Venus and carry humans there to experience the wonders, or who come on the tail of comets to take true believers to Heaven or where ever. I don't think so, Tim. I do, however, admit the POSSIBILITY, although highly unlikely, that visitors from other worlds beyond our solar system MIGHT have some means as not yet understood to boogie about the galaxy. There have been so many wonderous advances in theoretical physics that we can consider possibilities that once were regarded as impossible, and anyone believing in the past impossibilities were considered koo-koo birds. Several hundred years ago everyone "knew" that the earth was the center of the solar system, the sun revolved around the earth, the earth was flat, witches could cause cows to go dry, crops fail, and inflict horrible curses on folks. Anyone who disputed these "facts" were koo-koos and sometimes met undesirable fates at the hands of believers. As our scientists learn more about the workings of the universe, some of our current beliefs may be seen as just as silly.
I definitely believe in flying objects that are unidentifiable by the viewers. I recall very well people getting all wild eyed and excited about seeing dark triangular flying objects they thought were UFOs (the weird kind), usually viewed at night. It turned out that at least some (if not all) of these sightings were secret aircraft being tested by our government - vehemently denied, ofcourse. Then in the late 80s the flying wing aircraft were unveiled; the B-2 Spirit was made operational around 1997. The F-117 was also in production in the late 80s. These craft, positively earthly in manufacture, were not identifiable by the citizens, especially when viewed under night time conditions. Daytime viewing was a little better but still unidentifiable, alien in appearance and a cause for hullaballoos. Actually they were a product of "black projects" and the people who saw them were not koo-koo birds. Who knows what other "UFOs" are objects of a similiar origin.
"In the
United States
a
black project
is a classified military/defense project, unacknowledged by the government, military personnel, and defense contractors. Familiar examples of U.S. military aircraft developed as black projects are the
F-117
stealth fighter and
B-2
stealth bomber, which were highly classified and denied to exist until ready to be announced to the public."
Imagine seeing some of these craft at night before they were made public:
Diagram of Lockheed F-117 Night Hawk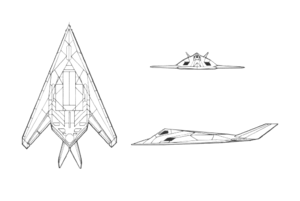 Delta Research Craft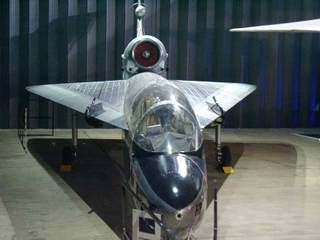 .......................
Delta Wing Craft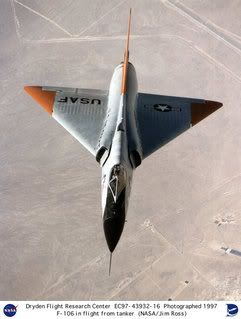 ...............................
Stealth Craft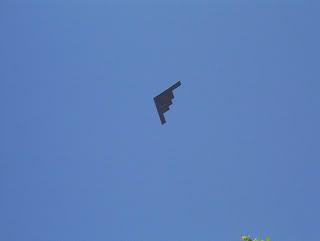 ................................
Stealth Fighter
............................
B-2 Spirit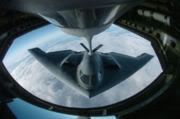 ........................................
B-2 Craft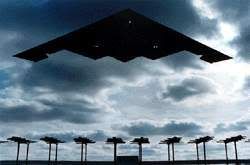 ..............................................
B-2 Side View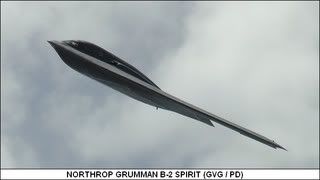 ......................................
UFO ART - artist's rendition of triangular UFO

.The UFO artist who rendered this almost got it right, considering that night viewing obscured many details.
This post is to show that many perfectly normal sights can be misunderstood and misinterpreted.
I have no idea what kind of craft Kuchinich saw, nor whether it was a bona fide UFO or simply another "black project" being tested. I won't vote for Kuchinich, even though I agree with many of his stands and have come to admire him. But it ticks me off intensely for dumb a$e$ to leap to conclusions and defame a person for no good reason. Exercise some common sense and reason, will you, you guffawers?
COMMENTS:

Hi
Although most of the little guys aren't green, they are very real. Thanks for your post, and trying to wake people up to the fact that Bush and many like him are lying.

If each star is a sun with its own solar system and there are untold numbers of solar systems other than our own, how can we so arrogant as to think we're all there is.

As for my hero Dennis, he might have been kidding. I did hear that he said something like "they think I'm nuts anyhow, what's one more thing".

Even if he's not, as you say it's small potatoes compared to the delusions experienced by the person currently occupying the Oval Office.

I'd rather vote for a guy who says he saw a ufo than some asshole who says he and God have daily chats...but then i wouldn't have voted for him anyhow...and glad i didn't..

Me, too. I agree, YDG!
Labels: Kuchinich -ufos-defense